(I'm going to watch The Crucible, I just bought it on iTunes.)

My big brother
Kevin Morosky
tagged me in his blog, so I have to reveal to the world 6 facts about myself and pay it forward. OK? Let's go.
1. I was raised in Zimbabwe by my Grandparents until I was 7 years old. My mother sent me out there to live and it was the best thing that happened to me because I learnt so much, see so much and got to experience things that some people can only dream about.
2. The name of my clothing label; CUT&WALLOW has no sexual meaning! Ha! My mum told me I eat my food too fast, that I cut and swallow and I was like, "Shit, that's dope!" And it's interesting. My grandmother was like "I get it, I get it, you cut the material and swallow the dresses." Whatever floats your boat, grandma.
3. I was badly bullied at secondary school. I was, and I quote; a BLACK LIP MONKEY LANKEY LARRY. I was neeky and different. No one got it. But in Year 9, I became cool somehow, cos people realised I wasn't gonna change, so they had to, I guess. I saw the main perpetrator in Peckham a couple years ago pushing a buggy, I made sure I crossed the road to say hi. Ha! A small victory. This was me: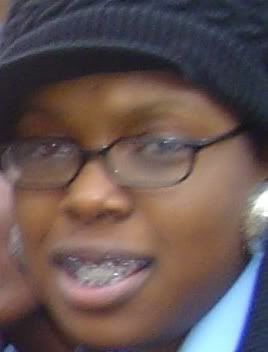 4. I have really HUGE breasts. I've put on a lot of weight lately and it's all gone to my breasts and my cheeks. I am refusing to go up a bra size, cos Marks and Spencer's do not stock that bra size (use your imagination) and I just can't do it. I just have to lose the weight. Arrggghhh!
5. I love Jesus. I'm very liberal, some Christians would say luke warm, but whatever. Jesus and I are cool. I love Him too much for words to express. The end.
6. My first job was as a waitress in my aunty Alice's Caribbean take away in Hither Green Lane in Catford.
Great, now, I don't, personally know 2 people on blogger, so I'm going to tag my sis
Lala
and maybe she does.
Love and forward movements.